Postcard Marketing – Using Postcards With Direct Mail For Your Business 
Why Use Postcards To Promote Your Business?
They Are Effective – As one of the most effective of direct mail marketing tools, full-color, custom-printed business postcards, get your message across quickly and inexpensively. Postcards achieve almost 100% readership and generate a relatively high rate of response and has a great ROI.
They Are One of The Most Cost-Effective Ways of Promotion. – NYPS has a one of the lowest prices for high quality, thick, full color, and double-sided postcards in the industry.
They Get Your Message Across FAST – NYPS will design, print, and send your custom direct mail postcards at discount prices in as fast as a week or less.
There Are No Limitations – Unlike telemarketing phone calls (people can get on a "no-call" list) or emailing (people can "opt out"), postcards go directly in the hands of present and future clients and are less likely to be seen by your competitors.
The US post office now has the "Every Door Direct Mail" program, which can get your message out to your target audience quickly and for as low as 17.5¢ per mail piece. Call us at 212-989-6633 for more details about this program that can increase profits and grow your business quickly and inexpensively!
Postcards NYC Discounted Top Quality 16 Pt Full Color-2 Sides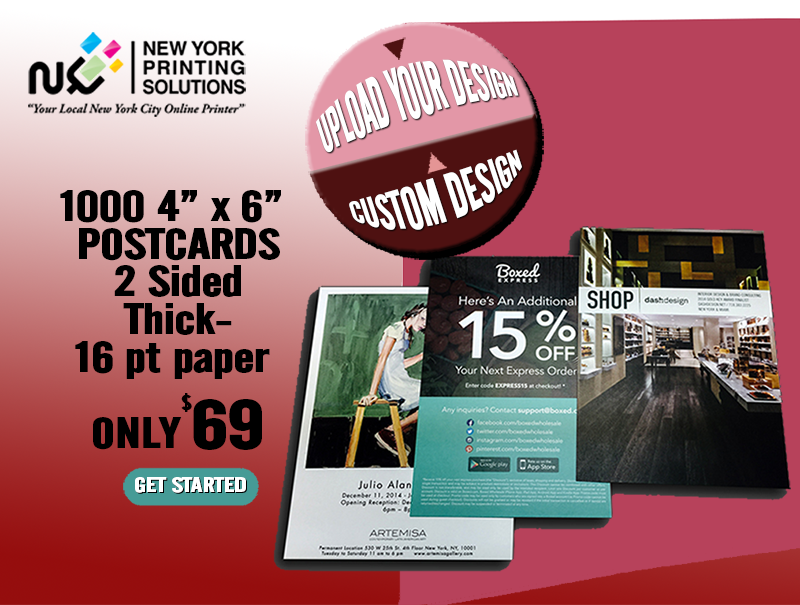 To order or see other size pricing click here
Questions: Email Us
NY Printing Solutions offers very high-quality, printing on premium card stocks at  super reasonable prices (our low price for 16pt is lower than competitors  12-14 pt!)  If your postcard is camera-ready and ready to be printed simply upload them to our website and place your order! Or…You may choose to create your designs on our free online designer. 
1000 4″ x 6″ postcards for $69.00, printed on our premium 14 pt. Gloss Coated Cover with UV Coating.  NY Printing Solutions UV Coating gives your post cards a beautiful, luxurious shine and protects your cards from damage.  You receive a post card that is printed full color on the front AND full color on the  back side. Additional sizes and options are available; please refer to our website for pricing.
Full color Postcard Printing in NYC from New York Printing Solutions. Your clients deserve the incredible quality of our postcard printing on this thick rich paper that feels as exclusive as the product or service you offer.
16pt.

(140 lb card stock) very thick paper only–

compare to what you see on the net that is usually ONLY 12 pt!

On-line easy-to-use designer for your custom postcard creation.
Send us your artwork or allow our graphics professionals to create a custom, awesum postcard design for you!
Choose from standard postcard sizes or custom sizes available. Many sizes are eligible for standard Postcard postage
Use our "Save-The-Date postcards for company or personal events or parties
High quality offset full color printing for discounted custom and standard postcard sizes
Low cost -compare our prices to other on-companies-CHECK the quality (we use 16 pt-140 lb paper)
Postcard templates available or upload your own files
Available with a shiny UV varnish or with our Dull Matte / Silk Finish
Download one of our many postcard templates from our large variety of standard postcard sizes or select a custom postcard size. If you need help ordering your custom printed postcards or if you require rush s ervice, please email, call 212-989-6633 or come in for a visit. Please call 212-989-6633 or visit us at 209 W. 40th Street for additional postcard options, not shown on our website such as spot varnish, 19pt., silk laminated postcards etc.
If you are looking Discounted, High Quality,- High Quality, Thick Paper Stock Postcards contact us!
We are your postcard printing and mailing experts so ask us about using your mailing list, Every Door Direct Mail (EDDM), or having us get a mailing list for your target demographic clients.
To order or see other size pricing click here
Questions: Email Us
Not all postcard paper is the same! We use ONLY 16pt thick stock to assure a look of luxury and quality!
Front AND Back Sides Are Printed In

FULL COLOR



Artwork – Yours Or Design On-Line
 Great UV First Quality Glossy Coating

Technical Print Specifications:
Stock –

16 pt card stock 

Color 

4/4 (Full Color On Both Sides)

Back Printed IN FULL COLOR (not just black and white)
Don't Have Artwork or Want To Use Our On-Line Templates? Custom Design Staff Available
Turnaround – Production Time 3-5 business days (Rush Service Available)
Guaranteed Satisfaction